The Malonga Casquelourd Center for the Arts is a popular multicultural, multidisciplinary performing-arts complex sponsored by the city of Oakland, formerly known as the Alice Arts Center. A beautifully restored turn-of-the-century building,  it's one of Oakland's busiest performing arts facilities. Patrons can participate in a variety of arts programs, dance classes or rent spaces for arts events and activities. Spaces available for rent include a 350-seat theater, five dance studios, meeting rooms and rehearsal spaces. Its theater and performance venues showcase music, theatre, ballet, African and contemporary dance, and more. MCCA Theater has been serving the community dating back to the 1920s. It's provided a safe environment, positive role models, physical & educational activities as well as cultural awareness and enrichment.
Celebrate your next event at the Malonga Center. We offer a wide variety of rooms, including our 300 seat theater with professional lighting and sound capabilities.
Stage Dimensions are length 33 X 36 width, with four 4-foot wings per side. The stage floor is wood with black Marley. Because of its depth and high ceiling, the theater is an ideal venue for dance performances, plays, seminars, lecture forums, business meetings, dance video shoots and much more.
5 Studios and 5 Conference rooms available for rehearsals, auditions, and workshops (evening space is limited). To find out which part of our facility will fit your event contact reservations at (510)238-7526.
MCCA facilities are available for a broad spectrum of events:
performances
special events
receptions
meetings
screenings
presentations
Specialized Services @ MCCA:
on-site coordination of event services
professional lighting and sound systems
box office services
in-house security
preferred catering and vendor referrals
Malonga Center Theater
Overall square footage: 7,000 ft. 
Performance Space sq. footage: 1,600 ft. 
Stage Dimensions: Width 36 feet, Depth 33 feet, Height 26 feet
, Loading dock door 20×10 ft. high. Maximum seating capacity is 300
At Your Service
The Central Reservations Unit at Oakland Parks and Recreation provides highly personalized attention to help you plan your special event. Our excellent customer service and personalized guided tours ensure that your meeting or celebration is a success, filled with happy memories. Call to set up your appointment today.
---
Key Features
Non-Exclusive Approved Caterers List Available.
ADA Accessible
VENUE OPTIONS
Theater – 7,000 Sq. – Max Capacity: 300
Studio A – 3,888 Sq. – Max Capacity: 271
Studio B – 900 Sq. – Max Capacity 49
Studio C – 2,500 Sq.  – Max Capacity : 167
Studio D – 900 Sq.  Max Capacity 49
RENTAL REQUIREMENTS
4-Hour Minimum Rental plus a deposit
is required when the reservation is made.
---
POLICIES PROCEDURES AND GUIDELINES (Please Read Thoroughly)

Applicant Requirements
Reservations must be made by an adult, 21 years of age or older. Reservation must be made at least 30 days in advance of the event. NO EXCEPTIONS. Applications are accepted on a first-come, first-served basis.
Rental Hours
Monday – Saturday, 9:00 AM- 10:00PM
Sunday, 9:00 AM- 6:00PM
Making Changes to Existing Reservations:
The person who made the original reservation must submit all changes in writing to the reservation office at least 30 days in advance of the reservation date.
A reservation may be changed to another date one time only without being charged a fee if the request is submitted in writing to the Reservations office at least 31 days in advance of the reservation date.
Renters may not add hours or use options and pay for them on site. Malonga staff or a uniformed Police Officer will close down any event that continues past contracted hours.
Number of Attendees Expected
The number of attendees can not exceed the maximum capacity of the venue space rented.
Setup/Cleaning Services and Customer Cleaning Responsibilities:
Applicant must provide a diagram at least 30 days in advance of event date, indicating the number of tables and chairs that will be required and the setup arrangement. Consult the Reservation Office about the number of chairs and tables available. Only the Malonga staff are permitted to set up and take down tables and chairs.
Patrons may only utilize the tables and chairs available at each site.  Additional equipment needs are the responsibility of the applicant.
Malonga staff are permitted to set up only in those areas specifically approved for normal use.
Renters must cleanup, remove and dispose of all items prior to leaving the facility.
At the conclusion of the event the renter and the Malonga event staff will tour the venue to check for and record any event related damages. Any event related damages will billed to and paid by the renter.
Decorations:
All decorating is the responsibility of the renter. No tape or pins are permitted on painted walls.
Renter is to use appropriate hangers to fasten objects to the walls.
Renters must remove all decorations, hangers, etc. from walls before leaving the facility.
Any banners (is not more than 26′ wide by 4′ height) must be tied, never taped to surfaces.
Helmet balloons are not allowed in the theater or theater lobby.
The Malonga does not provide any ladders, carts, electric cables, or similar items to assist in setup/teardown.
Malonga Theater Design Approval
Any renter who intents to utilize stage scenery or properties must arrange to have their designer/technician meet with the Malonga Theater Production manager, no less than 6 weeks prior to their event date to have their design needs assessed and approved. Any renter to intends utilize stage lighting, sound or special effects must arrange to have their designer/technician meet with the Malonga Theater Production manager no less than 6 weeks prior to their event  date to have their design needs assessed and approved.
Children at the Event
Children must be supervised at ALL times.
Youth Events
Youth events include bar mitzvahs, bat mitzvahs, quinceñeras, Sweet 16 parties, 18-year-old birthday parties, and all events involving groups under 21 years of age. A minimum of one adult per 15 youths is required. Arrangement of security staffing must be approved in advance by the Malonga Reservation office. Alcoholic beverages are not allowed at juvenile events.  See the "Procedures for Youth Events" for more information.
Prohibitions
Illegal use of drugs, profanity, drunkenness, fighting and gambling are prohibited at the Malonga Center for the Arts.
Smoking:  The Malonga Casquelourd Center is a  non-smoking environment. Smoking is permitted outside the building (per city ordinance 11482 "NO smoking within 25 feet of the building…")
Pets: No pets are allowed nowhere on the premises. ADA service animals permitted.
Miscellaneous
The Malonga reserves the right to cancel the rental of any facility at any time and without stated cause therefore. In such cases, all fees, deposits, and service charges previously paid by renter will be returned to person originally receipted.
The Malonga reserves the right to require appropriate liability insurance coverage for any event scheduled in a City rented facility. An Insurance Requirement Notice will be forwarded to renters/users when required.
Groups, organizations, or individuals using City facilities are expected to use the facilities in an orderly and safe manner at all times. Disorderly conduct on the part of those using the building may result in the immediate cancellation of the event and/or the forfeiture of the right to use any City operated facility in the future.
Facilities are rented "As Is". Renter must familiarize him/herself with the equipment and furniture provided. Renter may secure additional equipment by renter's arrangement and at renter's expense.
MISREPRESENTATION OF EVENT
Any misrepresentation as to the nature of the event, the number of attendees expected, contact or payment information or any other falsification of permit documents will result in the immediate cancellation of the event and forfeiture of fees paid.  Misrepresentation may also result in depriving the individual/group of further use of any OPR facility, denial of future permit requests and/or legal action.
RESERVATION/CANCELLATION/ TERMINATION
Renter  may cancel its reservation of space by written notice delivered to The Malonga Casquelourd Center 30 days prior to the date of the event without any further financial obligations, or than forfeiture of clients' theater fee/special event fee. Cancellation of event 30 days or less from the event date will result in full forfeiture of all fees. Malonga Casquelourd Center will in no way be liable for any cost incurred by the renter, for lost profits or consequential damages arising from canceled performances.
MARKETING & PUBLICITY
Client will be responsible for its own public relations materials (unless otherwise agreed upon), advertising and production programs. However, all public relations and publicity materials associated with clients' production and information regarding ticket sales including, but not limited to brochures, advertisements, posters, programs and flyers, must be submitted to and approved the Malonga Casquelourd Center for the Arts prior to printing and distribution.
RULES AND REGULATIONS
Client agrees to review and follow Malonga Casquelourd Center Rules and Regulations (see Exhibit A), including Oakland Fire Codes. The City of Oakland Fire Marshall will be asked to inspect and monitor premises to assure compliance with fire code and occupancy limits.
Rental Fees:
The minimum rental fee plus the deposit must be paid at the time the reservation is made. All fees must be paid in full 30 days in advance of your event.  Rental fees and service charges are established in the City of Oakland Master Fee Schedule.  The Office of Parks and Recreation (OPR) has no authority to waive established fees. These facilities may be reserved not more than 11 months and not less than 30 days in advance of the reservation date. Any client requesting rental of the Malonga Casquelourd Center for the Arts theater for specific dates, must pay the security fee ($500.00) the tentative hold will be placed on the theater schedule.
There is a mandatory setup/tear down fee required for Special Events rentals ($150.00) staff not included.
Reservation requests are accepted via fax, mail or walk-in. Customer must submit completed application and I.D. with authorization to charge credit card number by mail, fax or walk-in.  Your reservation will be confirmed upon receipt of a completed application and copy of your Driver's License or State Identification card with one of the reservation representatives.
Authorized credit card phone charges by applicant, constitute an oral agreement and confirms the reservation.
All rental fees, service charges and deposits will be processed at the time of receipt. All returned checks will result in cancellation of reservations and customer will be responsible for all bank charges and cancellation fees.
Applicant must pay rental fees for the full duration of the reservation including caterer/DJ setup, decorations, etc.
Fees may be paid 31 days or more in advance by personal or company checks, money order, or credit card. 30 days or less, fees must be paid by money order or credit card. No checks will be accepted.
Administrative Service Fee $75 Per Request/Change (An administrative service fee will be charged for any approved changes to a permit or approved reservation requests within 30 days of an event date.)
Malonga Casquelourd Center for the Arts reservation fees can be found in the City of Oakland's Master Fee Schedule.  All reservation fees for The Malonga Casquelourd Center for the Arts are established by Oakland City Council. To view the fees for Malonga Casquelourd Center for the Arts services and facility click on the link above.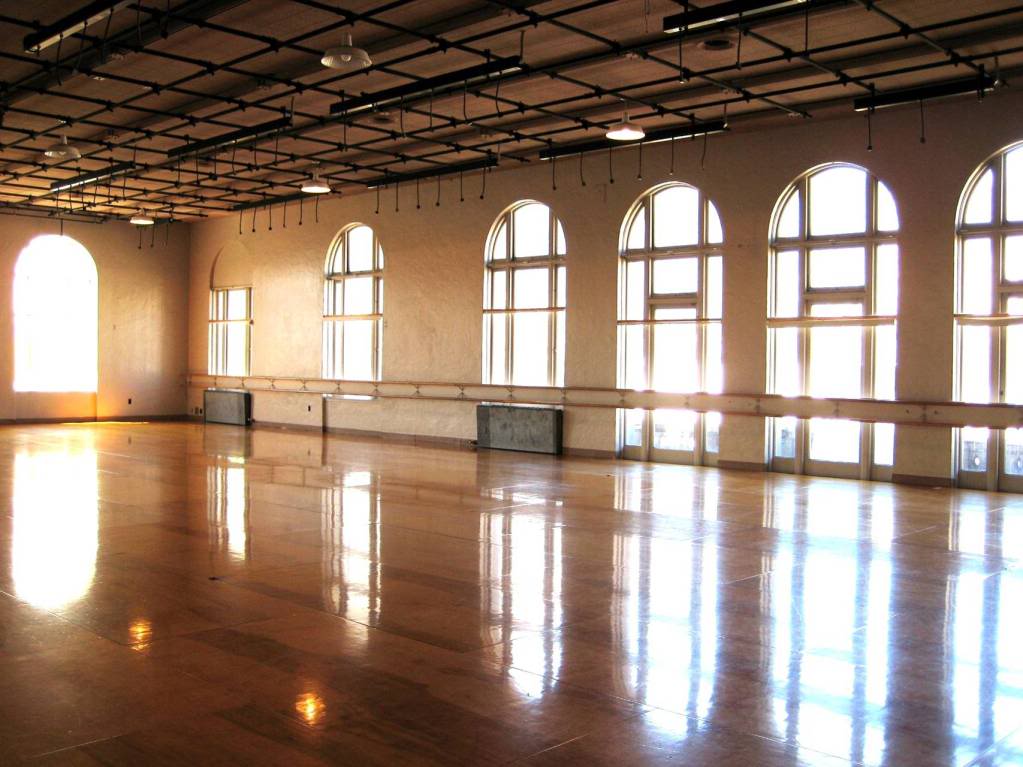 Overall square footage: 3,888 sq. ft. 
Studio dimensions: Width 81 feet, Depth 48 ft., Height 15 ft.
 Maximum capacity: 271 w/out seating, 244 seated
Studio A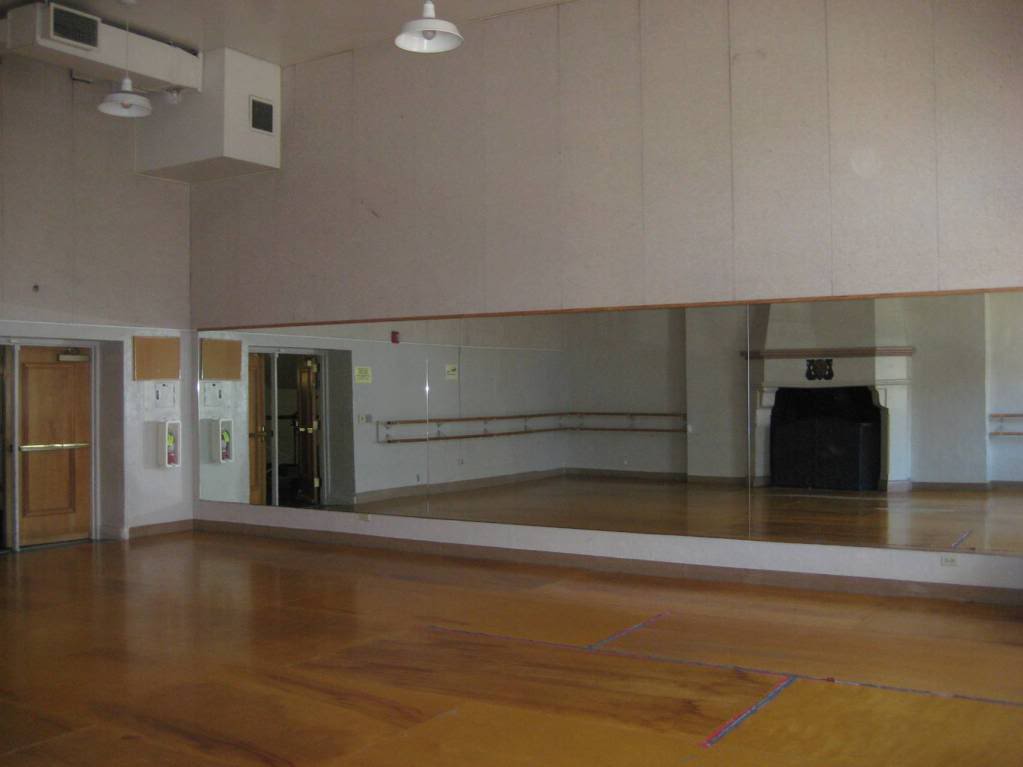 Overall square footage: 900 sq. ft. 
Studio dimensions: Width 30 ft., Depth 30 ft., Height 15 ft. 
Maximum capacity 49 people
Studio B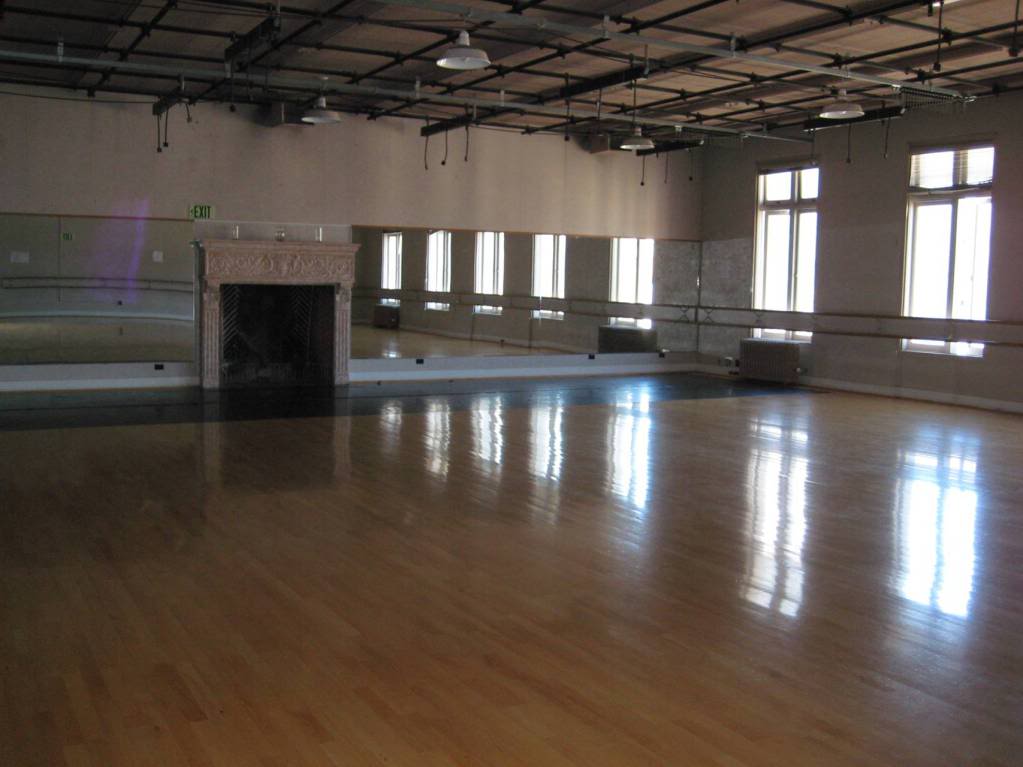 Overall square footage: 2,500 Sq. ft.
 Studio dimensions: width 52ft., Depth 48 ft., Height 12 ft.
 Maximum capacity : 167 w/out seats, 144 seated
Studio C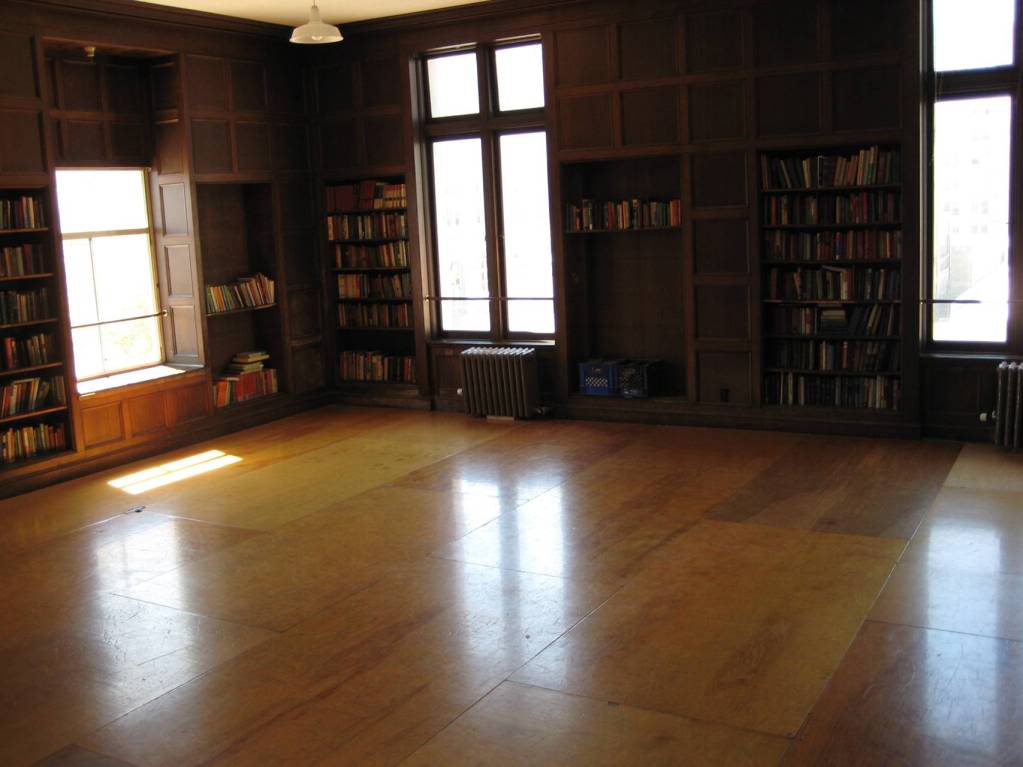 Overall square footage: 900 sq. ft. 
Studio dimensions: Width 30 ft., Depth 30 ft., Height 15 ft.
 Maximum capacity 49 people
Studio D
Other Spaces
MCCA Annex Rooms • MCCA Gallery • Conference Rooms A & B • Studio X • Studio E
Catering Policy:
Applicant must provide the Malonga with the caterer's name, address and license number.
Applicant is responsible for payment of any additional time a caterer may need at the facility.
The caterer has a contract with the Applicant, not the City; therefore, Applicant is responsible for any damage to facility equipment or theft and clogged sinks or dishwasher, damage to grill or oven, greasy stoves, dirty floors and counter tops.
All rental items or catering equipment must be removed from the building at the end of the event.
Caterers/theater concessionaires, serving or selling food and non-alcoholic beverages in the theater lobby, must comply to the same general liability insurance requirement set forth for the Renting organization/business
Certificate of Insurance and Food Handler permit is due 14 days prior to the moving in and must reflect theater/studio use and time. Liability insurance will be obtained in amount of 1,000,000 per occurrence, $1,000,000 aggregate limit.
Caterers/theater concessionaires must arrive 1 1/2 hour before the event starts and complete setup 30 mins prior to doors opening to the public.
Linen Services
Linen services and other rental service needs, i.e., china and silverware, are available at a nominal charge.  Inquire with a the Malonga Reservation office.
Additional Permits
Additional permits may be required, e.g. Charitable Solicitations Permit, Alcoholic Beverage License, Sound Amplification Permit, Certificate of Insurance etc. Applicant is responsible to obtain such permits when required.
Alcoholic Beverages
Alcoholic beverages may be served inside facility for adult events only. An additional alcoholic beverages permit and fee is required:
Fees:
$125.00 Champagne, beer, wine
$195 Distilled spirits, champagne, beer, wine
An additional alcohol permit licences to sell alcohol and beverages in the Malonga is needed:
The State of California issues liquor licenses, which are required for all 
businesses selling alcohol, and the City of Oakland issues conditional
use permits for bars, restaurants, stores and other businesses selling 
alcohol as part of zoning approval.
The applicant will hold the City of Oakland and its employees (Malonga Staff)  free from any liability or claim for damages or suit by reason of any injuries to any person or property, of any kind whatsoever, arising out of the serving of alcoholic beverages before, during and after use of event to self and attendees.